Only addresses 1/2 causes of menopause symptoms-low estrogen levels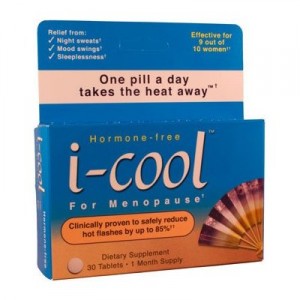 Wellesley's Rating:

Amazon.com Rating:

i-Cool is available at:
What is i-Cool?
i-Cool is a supplement with just 1 active ingredient, an isoflavone called genistein.
Wellesley Women's Institute Ingredient Analysis:
| | | |
| --- | --- | --- |
| | Criteria | Our Comments |
| – | Phytoestrogenic Ingredients For Hot Flashes | Estrogen deficiency during menopause causes hot flashes. i-Cool only has one kind of isoflavone: genistein. |
| | Progesterone and/or Progesterone Precursors for Hormonal Balance | Progesterone balances out estrogen and is essential when supplementing the body with estrogen. i-Cool has no progesterone or progesterone precursors. |
| | No artificial dyes | i-Cool has no carcinogenic titanium dioxide. |
i-Cool Ingredients
i-Cool has only 1 kind of isoflavone even though there are a number of isoflavones: genistein. Isoflavones are plant molecules that exhibit estrogen-like behavior. They are not estrogens but are similar enough to bind to estrogen receptors throughout your body.
Does i-Cool Work?
As we have discussed, the main cause of menopause symptoms is the lack of estrogen and progesterone. i-Cool only has one kind of phytoestrogen to address the lack of estrogen. It is insufficient to address causes like hot flashes experienced during menopause.
Estrogen is balanced out by progesterone and is important for mental health during menopause. Without any progesterone or progesterone precursors, i-Cool does not address progesterone deficiencies.
Is i-Cool Safe?
Traditional Hormonal Hormone Replacement Therapy relies on supplying the body with estrogen and/or progesterone. Using hormones identical to those of the body has been linked to increased chances of cancer.
Fortunately, i-Cool uses isoflavones which are plant compounds that are weakly estrogenic. The risks in taking isoflavones are dramatically less than taking pure estrogens prescribed in HRT. Isoflavones are consumed by people worldwide, especially in Asian countries in the form of soybeans. The frequency of menopause symptoms is dramatically less in those countries.
Since it only uses 1 kind of isoflavone, we'd be more worried about whether or not it works.


i-Cool Ingredients:
Supplement Facts
Serving Size: 1 Tablet
Amount
Daily Value
geniVida® (non-soy genistein)
30mg
*