Only addresses 1/2 causes of menopause symptoms-low progesterone levels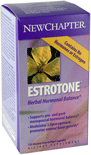 Wellesley's Rating:

Amazon.com Rating:

Estrotone is available at:
What is Estrotone?
Estrotone is an herbal menopause supplement from New Chapter which manufactures a variety of supplements.
Wellesley Women's Institute Ingredient Analysis:
| | | |
| --- | --- | --- |
| | Criteria | Our Comments |
| | Phytoestrogenic Ingredients For Hot Flashes | Estrogen deficiency during menopause causes hot flashes. Estrotone does not have any phytoestrogens. |
| | Progesterone and/or Progesterone Precursors for Hormonal Balance | Progesterone balances out estrogen and is essential when supplementing the body with estrogen. Estrotone has black cohosh which contains progesterone precursors. Estrotone also contains chasteberry which has been shown to lower prolactin and raise progesterone levels. |
| | No artificial dyes | Estrotone has no carcinogenic titanium dioxide. |
Estrotone Ingredients
Estrotone addresses only 1 issue with menopause, low progesterone levels. It has black cohosh extract which contains progesterone precursors and chasteberry which raises progesterone elvels.
But because Estrotone does not actually address estrogen levels, it does not address menopause symptoms such as hot flashes and night sweats.
Does Estrotone Work?
Low levels of estrogen and progesterone cause the symptoms of menopause. Estrotone just addresses progesterone levels. Proper progesterone levels help with mental clarity and mood.
Is Estrotone Safe?
Traditional Hormonal Hormone Replacement Therapy relies on supplying the body with estrogen and/or progesterone. Estrotone uses natural herbal alternatives that help balance those hormones.


Estrotone Supplement Facts
Supplement Facts
Serving Size: 2 Softgels
Amount
Daily Value
Schizandra,(wu-wei-zi), (berry), extract (2% shizandrins-3.2 mg)
160 mg
*
Ginger, (rhizome), 27 mg supercritical extract, certified organic, (30% pungent compounds-8.1 mg, 8% zingiberene-2.1 mg) and 23 mg PSE*** extract (3% pungent compounds-0.7 mg).
50 mg
*
Black Cohosh, (root & rhizome), extract (8% triterpene glycoside-3.2 mg)
40 mg
*
Chaste Tree, (Vitex agnus castus), (berry), extract(0.6% aucubin-0.2 mg) (0.5% agnuside-0.2 mg)
40 mg
*
Rosemary, (leaf), supercritical extract (23% total phenolic antioxidants [TPA]-2.3 mg)
10 mg
*
Evening Primrose Oil (Oenothera biennis) (seed) supercritical extract
200 mg
*
Other Ingredients: Extra virgun olive oil, maltodextrin, yellow beeswax, gelatin, vegetable glycerine, purified water, carob