The Menstrual Cycle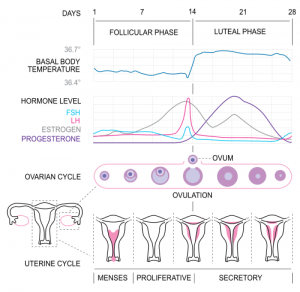 To understand menopause, you must understand the normal menstrual cycle. Once girls reach puberty, their ovaries release a mature egg once a month in a process call ovulation. If the egg gets fertilized by a sperm, it implants in the uterus and grows into a fetus. If it doesn't get fertilized, it gets passed through the body along with the endometrium, or lining of the uterus, on a monthly basis.
The Role of Hormones in the Menstrual Cycle

After puberty, women menstruate once about once a month and this process is controlled entirely by hormone, specifically follicle stimulating hormone (FSH) and luteinizing hormone (LH). These hormones signal to the ovaries when to grow and release eggs and produce other hormones like estrogen, progesterone, and estradiol that further affect the body. However, once they reach about 50, menstruation becomes erratic as menopause is reached. Most of these women eventually stop menstruating at all because FSH and LH are no longer produced by the pituitary gland.
Menopause is Caused by Hormone Deficiencies
And because FSH and LH are no longer produced, the ovaries stop making estrogen, estradiol, and progesterone . The lower levels of these three hormones wreaks havoc on the body, causing familiar symptoms such as hot flashes, osteoporosis, and fatigue. Remedies for menopause, therefore, must supply the body with the missing hormones.