This cream just addresses 1/2 causes of menopause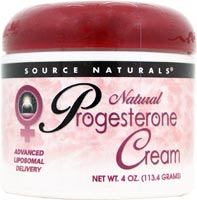 Overall Rating:

Source Naturals Progesterone Cream is available at:
What is Source Naturals Progesterone Cream?
Source Naturals Progesterone cream is a progesterone cream with some miscellaneous ingredients.
Wellesley Women's Institute Ingredient Analysis:
| | | |
| --- | --- | --- |
| | Criteria | Our Comments |
| | Phytoestrogenic Ingredients For Hot Flashes and Night Sweats | Estrogen deficiency during menopause causes hot flashes. Source Naturals Progesterone Cream has no phytoestrogenic ingredients. |
| | Progesterone and/or Progesterone Precursors for Mental Health and Cancer Prevention | Progesterone balances out estrogen and is essential when supplementing the body with estrogen. Source Naturals has USP progesterone. |
| | Artificial dyes or Paraben | Source Naturals has no artificial dyes or paraben. |
Source Naturals Progesterone Ingredients
Source Naturals Progesterone does not have any phytoestrogenic ingredients which are plant molecules that exhibit estrogen-like behavior. They are not estrogens but are similar enough to bind to estrogen receptors throughout your body. They are needed to make up for reduced estrogen levels during menopausal years which would otherwise lead to menopause symptoms such as hot flashes, night flashes, and mood swings.
Source Naturals's main ingredient is progesterone. The progesterone used is USP grade and is pure and makes up for progesterone deficiencies experienced during menopause.
Does Source Naturals Progesterone Work?
As we have discussed, the main cause of menopause symptoms is the lack of estrogen but more importantly progesterone. Source Naturals just addresses the lack of progesterone.
It does not have other ingredients besides progesterone to help with menopause.
Is Source Naturals Progesterone Safe?
Traditional Hormonal Hormone Replacement Therapy relies on supplying the body with estrogen and/or progesterone. Source Naturals uses natural progesterone to supplement the body's low progesterone levels.
Source Naturals Progesterone Cream Ingredients:
Deionized Water, Aloe Vera Gel, Cetearyl Glucoside, Caprylic/Capric Triglyceride, Cetyl Alcohol, Glycerin, Natural Progesterone USP from soy (500 mg per ounce), Tocopheryl Acetate (Natural Vitamin E), Wild Yam Extract, Lecithin Phospholipid, Glyceryl Stearate & PEG-100 Stearate, Jojoba Oil, Squalene, Benzyl Alcohol, Stearic Acid, Grapefruit Seed Extract, Ginseng Root Extract, Methylparaben, Propylparaben, Sorbic Acid, Xanthan Gum, and Rosemary Oil.