A menopause supplement that utilizes a different mechanism of action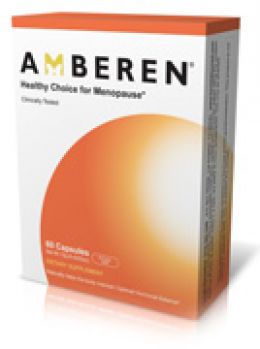 Wellesley's Rating:
N/A – unable to rate
Amberen is available at:
What is Amberen?
Amberen is a mineral-based menopause supplement from Lunaca Biomedical. If its claims are true it could mean a new approach to treating menopause symptoms.
Wellesley Women's Institute Ingredient Analysis:
| | | |
| --- | --- | --- |
| | Criteria | Our Comments |
| N/A | Phytoestrogenic Ingredients For Hot Flashes | Estrogen deficiency during menopause causes hot flashes. Amberen does not have phytoestrogenic ingredients, only succinic acid and succinate. |
| N/A | Progesterone and/or Progesterone Precursors | Progesterone balances out estrogen and is essential when supplementing the body with estrogen. Amberen only has succinic acid and succinate. |
| | No dyes | Amberen has titanium dioxide. |
Amberen Ingredients
Amberen has a number of ingredients that are various forms of succinic acid. Succinic acid is an intermediate compound for the Krebs cycle which creates energy for all cells.
Does Amberen Work?
We are intrigued by Amberen's proposed mechanism of action. Any consumed succinate ions will be absorbed and integrated into the Krebs Cycle which all cells utilize to create energy. The succinate would be used for energy to power the cells.
The clinical study cited by Lunaca Biomedical on succinic acid is available on the National Institute of Health's Pubmed database:
http://www.ncbi.nlm.nih.gov/pubmed/18942377
If their claims are true, Amberen could be a revolutionary approach to the treatment of menopausal symptoms.
Is Amberen Safe?
The ingredients in amberen are forms of succinic acid which is present throughout the body. One controversial ingredient is monosodium glutamate which is actually an essential amino acid. All proteins are made of amino acids, of which glutamate is one. Therefore, we believe monosodium glutamate to be a safe ingredient.


Amberen Ingredients:
Supplement Facts
Serving Size: 2 Capsules
Amount
Daily Value
Proprietary Compound
400mg
*
Ammonium Succinate
Calcium Disuccinate
Monosodium L-Glutamate
Glycine
Magnesium Disuccinate Hydrate
Zinc Difumarate Hydrate
Tocopherol Acetate
Other Ingredients: Gelatin, Rice Flour, Magnesium, Stearate, Silicon Dioxide, Titanium Dioxide, Riboflavin, Carmin, Water