Warning
: SimpleXMLElement::__construct(): Entity: line 1: parser error : Space required after the Public Identifier in
/home/themadh/public_html/www.menopause.wellesleyhealth.org/wp-content/plugins/amazonsimpleadmin/lib/Asa/Service/Amazon/Request/Abstract.php
on line
65
Warning
: SimpleXMLElement::__construct(): <!DOCTYPE HTML PUBLIC "-//IETF//DTD HTML 2.0//EN"> in
/home/themadh/public_html/www.menopause.wellesleyhealth.org/wp-content/plugins/amazonsimpleadmin/lib/Asa/Service/Amazon/Request/Abstract.php
on line
65
Warning
: SimpleXMLElement::__construct(): ^ in
/home/themadh/public_html/www.menopause.wellesleyhealth.org/wp-content/plugins/amazonsimpleadmin/lib/Asa/Service/Amazon/Request/Abstract.php
on line
65
Warning
: SimpleXMLElement::__construct(): Entity: line 1: parser error : SystemLiteral " or ' expected in
/home/themadh/public_html/www.menopause.wellesleyhealth.org/wp-content/plugins/amazonsimpleadmin/lib/Asa/Service/Amazon/Request/Abstract.php
on line
65
Warning
: SimpleXMLElement::__construct(): <!DOCTYPE HTML PUBLIC "-//IETF//DTD HTML 2.0//EN"> in
/home/themadh/public_html/www.menopause.wellesleyhealth.org/wp-content/plugins/amazonsimpleadmin/lib/Asa/Service/Amazon/Request/Abstract.php
on line
65
Warning
: SimpleXMLElement::__construct(): ^ in
/home/themadh/public_html/www.menopause.wellesleyhealth.org/wp-content/plugins/amazonsimpleadmin/lib/Asa/Service/Amazon/Request/Abstract.php
on line
65
Warning
: SimpleXMLElement::__construct(): Entity: line 1: parser error : SYSTEM or PUBLIC, the URI is missing in
/home/themadh/public_html/www.menopause.wellesleyhealth.org/wp-content/plugins/amazonsimpleadmin/lib/Asa/Service/Amazon/Request/Abstract.php
on line
65
Warning
: SimpleXMLElement::__construct(): <!DOCTYPE HTML PUBLIC "-//IETF//DTD HTML 2.0//EN"> in
/home/themadh/public_html/www.menopause.wellesleyhealth.org/wp-content/plugins/amazonsimpleadmin/lib/Asa/Service/Amazon/Request/Abstract.php
on line
65
Warning
: SimpleXMLElement::__construct(): ^ in
/home/themadh/public_html/www.menopause.wellesleyhealth.org/wp-content/plugins/amazonsimpleadmin/lib/Asa/Service/Amazon/Request/Abstract.php
on line
65
Warning
: SimpleXMLElement::__construct(): Entity: line 1: parser error : Space required after the Public Identifier in
/home/themadh/public_html/www.menopause.wellesleyhealth.org/wp-content/plugins/amazonsimpleadmin/lib/Asa/Service/Amazon/Request/Abstract.php
on line
65
Warning
: SimpleXMLElement::__construct(): <!DOCTYPE HTML PUBLIC "-//IETF//DTD HTML 2.0//EN"> in
/home/themadh/public_html/www.menopause.wellesleyhealth.org/wp-content/plugins/amazonsimpleadmin/lib/Asa/Service/Amazon/Request/Abstract.php
on line
65
Warning
: SimpleXMLElement::__construct(): ^ in
/home/themadh/public_html/www.menopause.wellesleyhealth.org/wp-content/plugins/amazonsimpleadmin/lib/Asa/Service/Amazon/Request/Abstract.php
on line
65
Warning
: SimpleXMLElement::__construct(): Entity: line 1: parser error : SystemLiteral " or ' expected in
/home/themadh/public_html/www.menopause.wellesleyhealth.org/wp-content/plugins/amazonsimpleadmin/lib/Asa/Service/Amazon/Request/Abstract.php
on line
65
Warning
: SimpleXMLElement::__construct(): <!DOCTYPE HTML PUBLIC "-//IETF//DTD HTML 2.0//EN"> in
/home/themadh/public_html/www.menopause.wellesleyhealth.org/wp-content/plugins/amazonsimpleadmin/lib/Asa/Service/Amazon/Request/Abstract.php
on line
65
Warning
: SimpleXMLElement::__construct(): ^ in
/home/themadh/public_html/www.menopause.wellesleyhealth.org/wp-content/plugins/amazonsimpleadmin/lib/Asa/Service/Amazon/Request/Abstract.php
on line
65
Warning
: SimpleXMLElement::__construct(): Entity: line 1: parser error : SYSTEM or PUBLIC, the URI is missing in
/home/themadh/public_html/www.menopause.wellesleyhealth.org/wp-content/plugins/amazonsimpleadmin/lib/Asa/Service/Amazon/Request/Abstract.php
on line
65
Warning
: SimpleXMLElement::__construct(): <!DOCTYPE HTML PUBLIC "-//IETF//DTD HTML 2.0//EN"> in
/home/themadh/public_html/www.menopause.wellesleyhealth.org/wp-content/plugins/amazonsimpleadmin/lib/Asa/Service/Amazon/Request/Abstract.php
on line
65
Warning
: SimpleXMLElement::__construct(): ^ in
/home/themadh/public_html/www.menopause.wellesleyhealth.org/wp-content/plugins/amazonsimpleadmin/lib/Asa/Service/Amazon/Request/Abstract.php
on line
65
A one-ingredient formulation that doesn't address both causes of menopause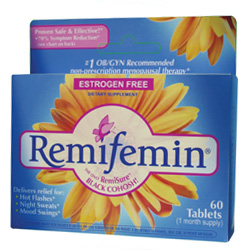 Wellesley's Rating:

Amazon.com Rating:

Remifemin is available at:
What is Remifemin?
Remifemin is an herbal menopause supplement from GlaxoSmithKline, a large pharmaceutical company.
Wellesley Women's Institute Ingredient Analysis:
| | | |
| --- | --- | --- |
| | Criteria | Our Comments |
| | Phytoestrogenic Ingredients For Hot Flashes | Estrogen deficiency during menopause causes hot flashes. Remifemin does not have any isoflavones. |
| – | Progesterone and/or Progesterone Precursors for Hormonal Balance | Progesterone balances out estrogen and is essential when supplementing the body with estrogen. Remifemin has black cohosh which contains progesterone precursors. |
| | No artificial dyes | Promensil has no carcinogenic titanium dioxide. |
Remifemin Ingredients
Remifemin has only 1 ingredient, black cohosh extract. For a long time, scientists believed that black cohosh displayed estrogenic (estrogen-like activity) but after repeated studies, it has been found to instead act like serotonin, a neurotransmitter associated with good feelings.
Does Remifemin Work?
Low levels of estrogen and progesterone cause the symptoms of menopause. Remifemin does not treat the actual causes of menopause. Rather, it addresses one of the symptoms of menopause, depression, by supplying the body with a compound similar to serotonin, N-omega-methylserotonin. [Link]
There is also evidence that Black cohosh has progesterone precursors that can be converted by the body to progesterone. If actually happens has not been sufficiently studied.
Is Remifemin Safe?
Black Cohosh is categorized by the U.S. Food and Drug Administration is Generally Recognized as Safe (GRAS). However, liver damage has been reported in a few individuals using black cohosh but many women take the supplement without adverse side effects. In Australia, supplements containing black cohosh are required to have a warning label which states that it may cause liver damage in some individuals and should not be used without medical supervision. [Link]


Remifemin Ingredient Label:
Supplement Facts
Serving Size: 1 Tablet
Amount
Daily Value
Black Cohosh Extract (Root and Rhizome)
20mg
*