Warning
: SimpleXMLElement::__construct(): Entity: line 1: parser error : Space required after the Public Identifier in
/home/themadh/public_html/www.menopause.wellesleyhealth.org/wp-content/plugins/amazonsimpleadmin/lib/Asa/Service/Amazon/Request/Abstract.php
on line
65
Warning
: SimpleXMLElement::__construct(): <!DOCTYPE HTML PUBLIC "-//IETF//DTD HTML 2.0//EN"> in
/home/themadh/public_html/www.menopause.wellesleyhealth.org/wp-content/plugins/amazonsimpleadmin/lib/Asa/Service/Amazon/Request/Abstract.php
on line
65
Warning
: SimpleXMLElement::__construct(): ^ in
/home/themadh/public_html/www.menopause.wellesleyhealth.org/wp-content/plugins/amazonsimpleadmin/lib/Asa/Service/Amazon/Request/Abstract.php
on line
65
Warning
: SimpleXMLElement::__construct(): Entity: line 1: parser error : SystemLiteral " or ' expected in
/home/themadh/public_html/www.menopause.wellesleyhealth.org/wp-content/plugins/amazonsimpleadmin/lib/Asa/Service/Amazon/Request/Abstract.php
on line
65
Warning
: SimpleXMLElement::__construct(): <!DOCTYPE HTML PUBLIC "-//IETF//DTD HTML 2.0//EN"> in
/home/themadh/public_html/www.menopause.wellesleyhealth.org/wp-content/plugins/amazonsimpleadmin/lib/Asa/Service/Amazon/Request/Abstract.php
on line
65
Warning
: SimpleXMLElement::__construct(): ^ in
/home/themadh/public_html/www.menopause.wellesleyhealth.org/wp-content/plugins/amazonsimpleadmin/lib/Asa/Service/Amazon/Request/Abstract.php
on line
65
Warning
: SimpleXMLElement::__construct(): Entity: line 1: parser error : SYSTEM or PUBLIC, the URI is missing in
/home/themadh/public_html/www.menopause.wellesleyhealth.org/wp-content/plugins/amazonsimpleadmin/lib/Asa/Service/Amazon/Request/Abstract.php
on line
65
Warning
: SimpleXMLElement::__construct(): <!DOCTYPE HTML PUBLIC "-//IETF//DTD HTML 2.0//EN"> in
/home/themadh/public_html/www.menopause.wellesleyhealth.org/wp-content/plugins/amazonsimpleadmin/lib/Asa/Service/Amazon/Request/Abstract.php
on line
65
Warning
: SimpleXMLElement::__construct(): ^ in
/home/themadh/public_html/www.menopause.wellesleyhealth.org/wp-content/plugins/amazonsimpleadmin/lib/Asa/Service/Amazon/Request/Abstract.php
on line
65
Warning
: SimpleXMLElement::__construct(): Entity: line 1: parser error : Space required after the Public Identifier in
/home/themadh/public_html/www.menopause.wellesleyhealth.org/wp-content/plugins/amazonsimpleadmin/lib/Asa/Service/Amazon/Request/Abstract.php
on line
65
Warning
: SimpleXMLElement::__construct(): <!DOCTYPE HTML PUBLIC "-//IETF//DTD HTML 2.0//EN"> in
/home/themadh/public_html/www.menopause.wellesleyhealth.org/wp-content/plugins/amazonsimpleadmin/lib/Asa/Service/Amazon/Request/Abstract.php
on line
65
Warning
: SimpleXMLElement::__construct(): ^ in
/home/themadh/public_html/www.menopause.wellesleyhealth.org/wp-content/plugins/amazonsimpleadmin/lib/Asa/Service/Amazon/Request/Abstract.php
on line
65
Warning
: SimpleXMLElement::__construct(): Entity: line 1: parser error : SystemLiteral " or ' expected in
/home/themadh/public_html/www.menopause.wellesleyhealth.org/wp-content/plugins/amazonsimpleadmin/lib/Asa/Service/Amazon/Request/Abstract.php
on line
65
Warning
: SimpleXMLElement::__construct(): <!DOCTYPE HTML PUBLIC "-//IETF//DTD HTML 2.0//EN"> in
/home/themadh/public_html/www.menopause.wellesleyhealth.org/wp-content/plugins/amazonsimpleadmin/lib/Asa/Service/Amazon/Request/Abstract.php
on line
65
Warning
: SimpleXMLElement::__construct(): ^ in
/home/themadh/public_html/www.menopause.wellesleyhealth.org/wp-content/plugins/amazonsimpleadmin/lib/Asa/Service/Amazon/Request/Abstract.php
on line
65
Warning
: SimpleXMLElement::__construct(): Entity: line 1: parser error : SYSTEM or PUBLIC, the URI is missing in
/home/themadh/public_html/www.menopause.wellesleyhealth.org/wp-content/plugins/amazonsimpleadmin/lib/Asa/Service/Amazon/Request/Abstract.php
on line
65
Warning
: SimpleXMLElement::__construct(): <!DOCTYPE HTML PUBLIC "-//IETF//DTD HTML 2.0//EN"> in
/home/themadh/public_html/www.menopause.wellesleyhealth.org/wp-content/plugins/amazonsimpleadmin/lib/Asa/Service/Amazon/Request/Abstract.php
on line
65
Warning
: SimpleXMLElement::__construct(): ^ in
/home/themadh/public_html/www.menopause.wellesleyhealth.org/wp-content/plugins/amazonsimpleadmin/lib/Asa/Service/Amazon/Request/Abstract.php
on line
65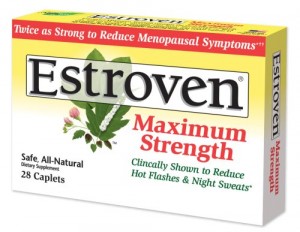 A good formulation but doesn't adequately address progesterone levels
Wellesley's Rating:

Amazon.com Rating:

Estroven Maximum Strength is available at:
What is Estroven Maximum Strength?
Estroven Maximum Strength is an herbal menopause supplement from Amerifit, a supplement manufacturer.
Wellesley Women's Institute Ingredient Analysis:
| | | |
| --- | --- | --- |
| | Criteria | Our Comments |
| | Phytoestrogenic Ingredients For Hot Flashes | Estrogen deficiency during menopause causes hot flashes. Estroven has 80mg of isoflavones from several sources. |
| – | Progesterone and/or Progesterone Precursors for Hormonal Balance | Progesterone balances out estrogen and is essential when supplementing the body with estrogen. Estroven does not have chasteberry which actually elevates progesterone levels. It does have black cohosh which contains progesterone precursors. |
| | Artificial dyes | Estroven tablets have carcinogenic titanium dioxide dye. |
Estroven Ingredients
Estroven has a number of vitamins and minerals as well as isoflavones to help with menopause problems. It has 80mg of isoflavones which help with estrogen deficiency but it does not have ingredients that address progesterone deficiency.
Does Estroven Work?
Low levels of estrogen and progesterone cause the symptoms of menopause. Estroven only addresses the estrogen portion of the menopause hormone problem. The isoflavones will address hot flashes and night flashes.
Is Estroven Safe?
Estroven does not have ingredients to raise progesterone, the other cause of menopause. We'd be more worried about whether or not it works.


Estroven Ingredient Label:
Supplement Facts
Serving Size: 1 Caplet
Servings per Container: 15
Amount Per Serving
% Daily Value
Vitamin D3 (as cholecalciferol)
1000 IU
250%
Vitamin E (as natural d-alpha tocopheryl succinate)
30 IU
100%
Thiamin ( as thiamin mononitrate)
5 mg
333%
Riboflavin
5 mg
294%
Niacin (as niacinamide)
20 mg
100%
Vitamin B-6 (as pyridoxine HCl)
20 mg
1000%
Folate (as folic acid)
400 mcg
100%
Vitamin B-12 (as ctanocobalamin)
25 mcg
417%
Calcium (as carbonate as phosphate)
100 mg
10%
Phosphorous (as calcium phosphate)
50 mg
5%
Selenium (as sodium selenate)
70 mcg
100%
Chromium (as chromium amino acid chelate)
120 mcg
100%
Black Cohosh root standardized extract
80 mg
*
Isoflavones
80 mg
*
Soy Extract
Puerania lobata root extract
Isolase enzymes
Estroven Balancing Herbal Blend
400 mg
*
Green tea leaf extract
Date seed extract
Magnolia bark extract
Cinnamon bark
Cranberry fruit extract (12:1)
300 mg
*
Boron (as boron chelate)
1.5 mg
*
Other Ingredients – cellulose, croscarmellose sodium, silica, vegetable magnesium stearate, titanium dioxide (natural mineral source), vanilla and caramel color.